Description
Adiseal Strong Adhesive & Waterproof Sealant 290ml Black
Adiseal Strong Adhesive & Waterproof Sealant Black 290ml
Best in independent test
Adiseal sets the record as the
strongest adhesive
and sealant in the market. In an independent adhesive strength test conducted by Ultimate Handyman, Adiseal surpassed all other products, demonstrating its exceptional strength. With a staggering over 3 times greater strength than its closest competitor, Adiseal establishes itself as the unrivaled choice for robust bonding applications.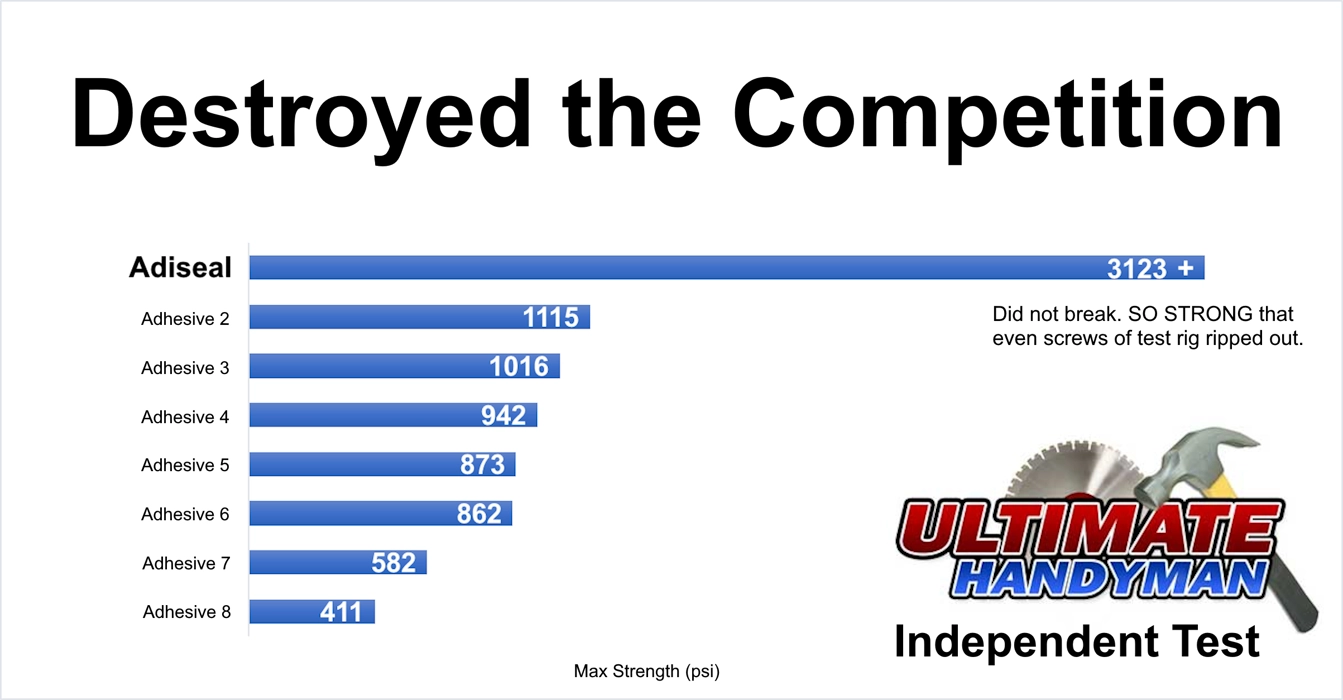 Best adhesive strength test results table
| | |
| --- | --- |
| Product | Max pressure when adhesive bond broke (psi) |
| Adiseal | 3123 + psi |
| SupaBond | 1115 psi |
| Tec 7 | 1016 psi |
| HB42 | 942 psi |
| Loctite PL Premium | 873 psi |
| Gorilla Grab Adhesive | 862 psi |
| Bond It PU18 | 582 psi |
| Bond It Save Nails | 411 psi |
Best adhesive strength test results.
Adiseal black adhesive mastic bonds: Metal, wood, glass, mirrors, concrete, masonry, stone, tiles, polystyrene, marble, granite, roof felt, fibreglass, most plastics & many other items.
Adiseal black sealant (caulk) seals: Baths, showers, gutters, drains, sinks, vehicles, boats, felt roofs & many other applications.
Benefits of Adiseal black adhesive mastic & black sealant (caulk) include:
Works in dry, wet & even underwater
High grab adhesive
Waterproof sealant & adhesive
Fast power grab & grip
Gap filling
Resists mould
Over paintable
Non brittle
UV resistant
Virtually odourless
Isocyanate free
Solvent free
No shrinkage or cracking
Prevent fungal growth
Prevent bacteria growth
Good resistance to chemicals
EC1 Plus certified (no VOC)
ISEGA certified – safe for use in food preparation areas
Construction adhesive & sealant
Full details of Adiseal adhesive & sealant can be found on the Adiseal website.  
Adiseal demonstration video
Adiseal black adhesive mastic & black sealant (caulk) is a multipurpose product but due to its high performance, it outperforms dedicated products for many applications. Some of the applications where Adiseal excels in include: concrete adhesive, sticking to brick, bonding PVC, sticking stone, gluing wood to metal, instant grab adhesive, sealing gutters, construction adhesive, sticking mirrors, bonding metal, sealing lead flashing, stick felt, waterproof sealing, sticking skirting board, gluing marble, stopping leaks, masonry adhesive, outdoor sealant, roof leak repair and many other applications.